The Digsby Family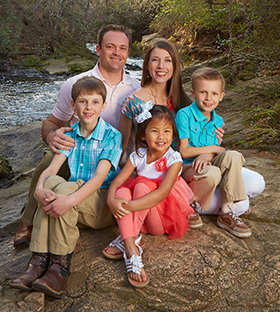 Regardless of one's resources, God can work with a willing heart to serve those who need Him, and with faith that He can accomplish His desires in and through us.
God used the Trot to Adopt 5K and 1 Mile Fun Run, an idea of Melissa Mullins, another key leader of the Trot to Adopt annually, to provide the last of the required funds to finalize the adoption of our youngest family member, Elita Mei Digsby from China in March of 2011. We trusted that He would provide all that we needed to get our little one home, and He proved himself faithful!
After we brought Elita home in 2011, others who were also pursuing adoption asked for help in putting on a similar event. Instead, we decided to bring them all together for a second Trot to Adopt in 2012. Since the first 5k in 2011, the Trot to Adopt has raised nearly $400,000 in funds to help to bring home 29 children home to their forever families in the CSRA, and to support the Village of Hope Adopt a Cot program in South Africa.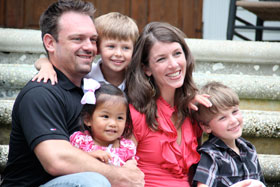 Not only has having a group of families work together lightened the load of putting on such an event, but has has brought tremendous awareness about adoption in our community…with 25-50 supporting community partners each year. We are thrilled that this event has not only been an example of how God provides for his children by stirring generosity in his people, but also encourages families to consider adoption, knowing God will make a way for us to reach out to others in need by His power and provision, regardless of our limitations.
Please plan to join us for the Trot to Adopt. Not only is the 5K or 1 mile walk/run invigorating, but playing a role in bringing families together by your support, and meeting those who have been united over the years through this endeavor will inspire you! We hope the Trot to Adopt encourages you to ask God to plant His very desires in your heart, and that you eagerly watch for His hand as you move forward in doing His will to care the orphan.
The Boudreaux Family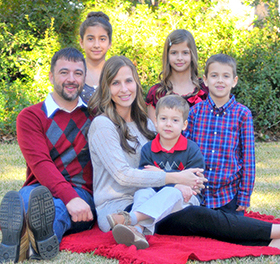 John and Regan Boudreaux decided to start The Project 143 Foundation as a way support local charities, with an emphasis on local adoptions. The foundation is primarily funded through the two small businesses that John and Regan own and operate. They are thankful that God has given them a platform from which they can bless others and live out James 1:27 as they do their part to help care for children in need. They are excited to be a part of the Trot to Adopt team and come alongside families seeking adoption. John and Regan live in Evans with their four children.
The Drake Family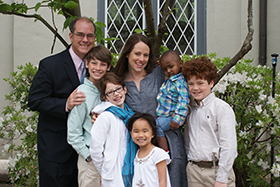 The Drake family is excited to be a part of the Trot to Adopt team. Jeff and Jennifer have 3 biologic children-Thomas, Samuel and Molly. They felt strongly that the Lord was calling them to add to their family through adoption and have been greatly blessed by the addition of their daughter, Cynthia, in 2010 from China and their son, David, from Ethiopia in 2014. David's adoption was helped immensely by being a participating family in the 2014 Trot to Adopt and they are so grateful for the support of the community through this adventure. They are honored to help bring home children to their forever families by helping organize this year's Trot to Adopt.
The GRU Womens Softball Team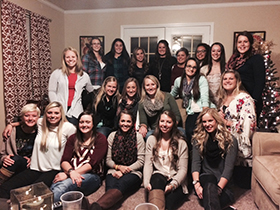 The GRU softball team has been an active race day supporter since the very first Trot-to-Adopt. Having a heart for adoption and a friendship with the Digsby's, Coach Brocato wanted her team to help in some way. Each year this event is included the team's list of community service events.